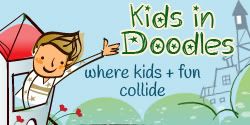 This post is linked to Kids in Doodles!
A typical 'date' with Sam always starts or ends up in the health clinic at the third floor of SM. Don't worry, nothing bad happens during our dates. It's just that the health clinic is actually the destination and the visit to the doctor is the main purpose of these dates. Of course, in order to motivate the little boy to come with me to the clinic, I tell him we're going to go on a date. He's always at SM almost every weekend with his Papa and brothers or his aunts and uncles and cousins, but it's not often that he's at SM alone with me. There's always something special about a date, don't you think? I enjoy this alone time with Sam, but I wish we don't have to go to the clinic often. We've been going a lot lately in the past couple of months, with him always getting sick due to coughs and cold. People tell me it's the season. I don't know, I really hope it is.
Anyway, a typical date involves (after visiting the doctor at the clinic) checking out the toy stores. Sometimes, we buy, but only the cheap ones. Sometimes, we don't. Sam understands there are some things that he cannot buy. He loves to pose for the camera though and take shots of things he want and he'll show it to his brothers when he gets home.
Sam in one our dates at the SM Toy Express stall
Next, we'll check out the usual stuff in the mall -- the music store, that black round thing (I don't know what it is called) where you drop the coins and you try to grab them before it spirals down the drain; and of course, the places where kids play.
Things to check out
On our latest 'date', the Christmas tree is all lit up and of course, he wants to take a picture of that. :D
Christmas tree at SM
And as always, a date would not be complete without passing by Jollibee. Sam loves the spaghetti there. He's already happy with only spaghetti and french fries, the soda, and the sundaes are all bonuses.
Jollibee is Love
Sam is really enjoyable to be with. And I don't have to spend a lot. The only thing he asks for on this date is Jollibee spaghetti, hehe. I just needed to entertain him a lot by pointing out interesting things to him, and from this he learns a lot of things and ask questions about them even days after. I know he enjoys this alone time with me, too.
How about you, what's your typical date with your child like?