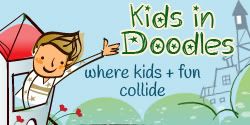 Basti, The Props Man (Speech Choir)
Among the happy memories of August is the celebration of Linggo ng Wika. Basti was a props man in their Sabayang Pagbigkas or Speech Choir and my dear hubby made one of the two backdrops. It was a family effort as he painted/drew over 4 pieces of huge construction board in the sala while the kids played and helped in their own way all around us. It was chaos, but the good kind of chaos. At the night before the flood, we made waffles (thanks to sister's waffle maker) while doing the backdrop and we ate while we drew. The kids had fun and were really satisfied with the cheese-filled waffles.
The parents of Basti's classmates also helped in making some of the props. But there was one parent who really went out of her way to make sure that everything the kids need are provided to them. I helped her in making some of the accessories as well. Basti's group won. It's not a surprise to me anymore because the kids are really dedicated into what they were doing. They practice every day, rain or shine. The parents are involved and can claim victory too for their cooperation.
On the day of the awarding, Basti wore a barong tagalog. Looking at him, I couldn't help but sigh. He's taller than me now and turning twelve in October but practically a teenager already. He said he doesn't want to be a props man ever again, lolz, because he and his classmate carried the very heavy ladder needed as props during the presentation. Poor guy, I may not let him anymore. It's not good for him to be so tired .
Simon and Sam's Linggo ng Wika
The two younger ones had their Linggo ng Wika celebration on the last day of August. Simon danced to the tune of "Mamang Sorbetero" (which Simon always says Mamang Sementeryo) and Sam delivered some lines of a poem together with his classmates. I am so proud of this two. They like what they're doing and are not shy to perform. I am also very glad that their teachers are dedicated and gave their best also in their performance. Some students dance the Itik-itik dance and the Maglalatik dance.
August In A Hindsight
August had been one busy month for us. It had been a challenging month for the family -- emotionally, physically and financially. Thank God, it's September now and things are looking up again. As much as August is challenging, it is also very fulfilling. We always come out closer to each other with shared experiences, difficulties and happy memories.

Thankful Thursday
(my first and don't know where to link this up)

I am thankful for my kids who are able to cope in their own way and are able to understand the difficulties we are going through even at a young age. Even during the three-day flood, they behaved well and endured two-and-a-half day of no water and electricity. They were brave enough not to cry as they were being evacuated through flood water to my in-law's house. Kuya Basti waded through flood water for the first time in his life. I am so proud and thankful for my kids.