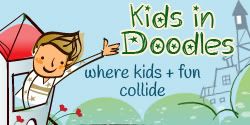 Yesterday was Simon's first day of school. The little man was so happy to be going to school finally. He was all smiles as he made his way to school.
I've sent two other kids to school, I was equally excited for them but I was also jittery both times. With Simon, there was no jitters. This little man is so ready. And I have no jitters for this one because I am at peace with the school. He and Sam, my second, are schoolmates and I know the teachers really well already. There is only a few number of students, also. We dropped him off to school and left him there. Our Mama Tess fetch the Kuya Sam and Simon afterwards.
And above is his first ever school work. He can already write the letters of the alphabet and his name. Of course, with his name, he had to have to copy, but I think he did pretty well. I am so proud of my youngest son.
This week's theme at Kids in Doodles is about how you spent your last days of summer. But our summer is so boring I have nothing to write about, haha, except quality time during walks around the neighborhood and DVD marathon watching. So I decided to write our first day of school instead. Do visit Kids In Doodles by clicking on the badge above and tell us how you spent your last days of summer or anything that's going on with you and your kids lives. We'd love to hear from you!