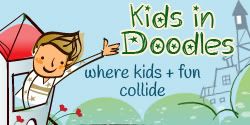 Our Kid in Doodles meme has a special twist this week, we're going to talk about favorite persons in our children's lives.
I can pinpoint in a heartbeat who my children's favorite person is. No question about it, no doubt, she's my children's favorite person in the whole, wide world. Nay, in the whole universe. Her name is Mama Tess.
This is her with my youngest. It was her birthday two weeks ago. We went to their house and celebrated with her.
We brought her an Ultimate Chocolate from Red Ribbon, yum yum.

Mama Tess is my hubby's uncle's wife, so technically, she is my children's grandmother. But what a punky young grandmother she is! She's the one who's been taking care of my children from way back when she started 'borrowing" Basti when he's still a baby some ten years ago. No, she's not their nanny or anything like that. But she does take care of them really, really good. I call her whenever I can't handle the children anymore, which is practically everyday. :D
How do I know that my children love her? Well, all of them, at certain points in their young lives, cry whenever she leaves to go home to her house for the day. Simon, my four-year-old, is in that stage right now. He goes in a rage and crying fit almost everyday. I just let him cry it out. He just couldn't be without her. She just goes to the bathroom and Simon follows. She goes to the grocery store and Simon will go, too. She disappears out of sight for just a sec and Simon goes looking for her. Thank God, the other two are way past that stage.
I know my children are well taken care of when they're with her. They smell good, look good, eat well, and are happy when they're with her. They go to her house and they come home noisy and giggling over everything. She is easily missed especially on weekdays. If you'll ask my little Simon who he loves the most, he'll say Mama Tess. And then, I'll pretend to cry and he'll say, "Joke yun, mama." Jealous? Nah. They love her so much but they know I am their mom.


I, myself, am amazed by her ability to communicate with children. She is soooooo patient with them. No question is left unanswered. Sometimes, I hear Simon and Mama Tess talk with each other and I hear her talk with him in a level that he can understand. Imagine spending all day with no TV, just talking and giggling and playing with a four-year-old. I guess you really must be a child at heart to be able to do that.
Of course, not all relationships are smooth sailing. Mama Tes and I still have some issues we need to work out. There are things we don't agree on and there were times we did not speak with each other for awhile over the ten years that we've been together. But there is one thing that had never changed and that is her love for my children. And because of that, I can overlook any differences we have and would ever have as long as those differences do not affect my children's safety and health.
With all the news about monster nannies we've been hearing everyday, it's hard to find someone to take care of our children when we're out or busy with work. I am just thankful that I had been blessed with people like her in my life. I am thankful that my children have her in their lives, to bring extra warmth, extra fun and extra laughter.