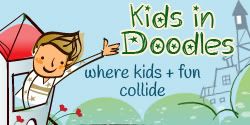 Thank God it's Friday! It's my blogging day! I love Fridays, especially Fridays when I'm not loaded with work. Like today. Sad to say, I have no files to transcribe today. No work, no pay, right? But I'm sooooooo happy to say that I can finally make a post for Kids in Doodles.
Kids in Doodles theme is "How's your weekend?" So forgive me if it's Friday already and I'm talking about THE previous weekend. This and that happened -- ah, you know how it is.
Anyway, how was our last weekend? Well, it was a food-filled weekend. Remember Mama Tess which I talked about last week
HERE
. Well, her hubby celebrated his birthday Saturday and off we trooped to their house again. Our Tatay Poly (as we call him) is my father-in-law's younger brother. Since my father-in-law passed away years ago even before I met hubby, I had always considered Tatay Poly as my kids' lolo on hubby's side of the family. He celebrated his 59th birthday. I didn't know he's still that young.
We ate and ate and ate until our stomachs were full.

I love that smiling sun. Don't you? We had the ever-present pancit bihon, chocolate cake, biko (which hubby cooked), fried chicken, and fried lumpia and of course, refreshing softdrinks to match.



Of course, the kids -- Tatay Poly's grandson (not in the picture), my kids and their cousins, and were the stars of the party. They took turns blowing the candle. In parties like this, a cake is not a cake without a candle on it. :)
Sunday morning, still full from Saturday's event, my sister fried something and left this on our kitchen table.

The kids and I thought they were chicken nuggets. It was only later when we took a bite did we realize that they were peeled baby potatoes, rolled in bread crumbs and fried. Really healthy and delicous! Even Sam ate a lot of these.
Then Sunday afternoon, hubby cooked his "specialty", spaghetti, which made the kids really, really happy.

There's a spaghetti merienda pack that you can buy at the store. It cost, I think, around only P45. We had to add a little bit more to that pack to feed a family of five, most of them boys.
So that was our weekend. We just lazed all day long at home Sunday, watching TV, movies, playing online and eating. Who said we need to go out of the house to have a good time?
How about you? How's your weekend?