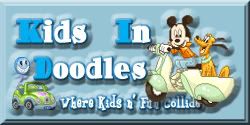 It's been awhile since I last joined Kids in Doodles. Thanks to Jared's mommy Vix for always tagging and keeping me updated on Jared's KID posts.
Here's my share for this week's KID:


Back in July, I got an infected eye. So I was using cheap sunglasses when I go out to the market or running some errands. I've never really used any kind of eye wear before this and I never thought it practical to buy branded and expensive sunglasses. Anyway, after that ordeal was over and after I stored these sunglasses somewhere in the house, my boys found these sunglasses and pretended to be me, and pretended to be movie stars. There was a lot of giggling and laughing from these two boys. Notice that Simon had his sun glass upside down, hehehe. This is one of the best memories of 2011.
By the way, hope you can vote for us at Rose Nostalgia Giveaway. Here's our entry:
http://www.maithreeboyz.com/2011/12/nostalgia-2011-through-hubbys-cellphone.html
And here's where you go to vote. Just leave a comment saying you're voting for my MaiThreeBoyz post.
http://www.meetourclan.com/2011/12/personalized-holiday-cards.html
Thanks for the support!