My two boys were born seven days and four years apart. I honestly believe that they would have had the same birthdate if Sam's birth was not induced. If I were to be asked what's my unforgettable moment in my life, I would say it would be the "moments" my boys were born. Truth to tell, I never imagined being a wife and I never imagined being a mom. Now, 10 years after, I can't imagine NOT being a mom. My life is complete with my three boys and I thank God each and everyday (especially when they're being ultra behave and nice) for the wonderful gifts He has given me.
To my two wonderful boys, happy birthday!!!
This is my share for KIDS.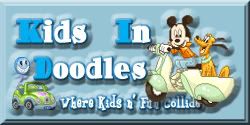 Don't forget to grab a digiscrap freebie