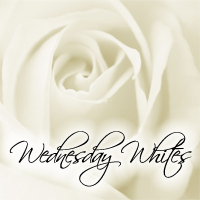 This is my first Wednesday White post. The WW banner has been there on my sidebar but I never got to participate. We have so many white clothes but I cannot find a photo with white on them. But this picture here seems perfect for my first Wednesday White entry.
As some of you know, my Sam has speech delay. He's five years old and he's not going to a regular school yet. Every year, we try but every year we're not successful. He's simply not ready to go to school. Last year, we sent him to a day care center but he stopped going after the Christmas break. We couldn't make him go. He cried and cried and threw a fit.
This year, I'm seeing a great improvement in him. The first time I noticed this was when he asked for his favorite Koko Krunch He was able to say nine words in a single sentence. He's beginning to express himself more coherently. And he's able to reason out now. Once when I was chastising Simon, he suddenly said, "Mama, hayaan mo sya." (Let him be, Mama) in his singsong voice. I almost laughed with joy but I had to keep a straight face.
So we tried again enrolling him to the same day care center. The day care center is really small. It was just three doors from my mother-in-law's house. But the only thing I want is for Sam to be able to socialize with other kids and for him to have some sort of schedule outside of the house. I also want him to be able to write on his own so I could enroll him in prep or first grade next year.
Great thing is that his younger cousin attends this day care with him so it's more fun than it was last year. He sometimes seems bored and sleepy but at least now, he's able to learn new songs and new things. He's not as noisy and is showing signs that he really wants to learn. So far, so good. Hope he finish this year. The only thing I was worried about was his writing skills. But then, I guess I need not worry. It seems Sam learned to write from his short school experience last year. This workbook proves it all.
My Sam never fails to amaze me.