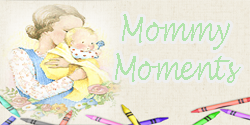 Mother's Day was an uneventful day for me. Although I can't say I'm sad about that. I had an eye infection that started a week before Mother's Day and everything was a blur to me and I can't say I've been a happy camper. I pretty much wanted to be left alone. So I was not sad, truth to tell, that I did not receive any cards from the kids, nor flowers from hubby, or we did not go out to dinner or things like that. Just a few greetings from friends and family already made my day.
I was happy though that hubby woke up early in the morning to cook his specialties, biko and spaghetti. That was his silent way of showing that particular Sunday was a special day for the two women in his life, his mother and me. My husband is a man of few words and I love that about him.
After a helping of delicious spaghetti and biko and with hubby and the boys off to my mother in law's house, I couldn't help thinking about other moms out there. Particularly about my mom, but I'll save my thoughts about her on my
next MM post.
So what was I thinking? What went on my mind?
On that Sunday, I was thinking about Jessica Rasalan, the lost child in SM Hypermarket. Thinking about her mom, actually. How could you greet someone like her who just recently lost a child a happy Mother's Day? Being a mom myself, my heart aches for her. Twenty-two days passed but Jessica still has not been found.
On the day they lost her, husband and I were at SM Sucat where we saw a movie. A
fter the movie, we went to the mall's hypermarket to buy some groceries. It is there where I saw an old woman talking to the guards and customer service reps of mall. She had with her a picture which she was giving to the guard. I got curious and took a look and the woman showed me the picture of a little girl, only two years old, who she said went missing that morning
inside the mall's hypermarket. It was only days later that I got to know the child's name through Levy's post which you can view HERE.
We can still help. The relatives of Jessica has set up a Facebook Fan Page, the Please Help Find Jessica Rasalan page. Hope you can all like it and share it with everyone you know. Let's help another mom in need.
UPDATE
may 28th 2011:
According to the Please Help Find Jessica Rasalan F
acebook Fan Page, Jessica has already been returned to her family. Thank you God for the answered prayers!
And what else was I thinking that day? Well, I was thinking about Mommy
Dionisia Pacquiao. Of how fervently she prayed in her prayer room, and how she fainted when Manny won. I feel for her when she begs Manny not to fight again. She must have felt every blow, her heart must have skipped a beat at least a dozen times. For us, moms, our kids will be our little boys no matter how old and no matter how strong they are.