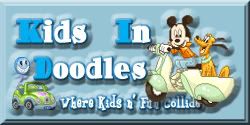 Here are photos of my boys acting out what they see in the movies and what they see around them.
I'm glad that my boys know how to improvise and can make toys and have fun out of the simplest things.
Right after watching Hellboy on DVD, the boys decided they wanted to be Hellboy. They used blankets to attain that Hellboy look.
Simon pretending to be a puppy, complete with sound effects. That puppy headgear is actually the cover of his kiddie chair.