Ah there, I'm sorry for the late post. Finally found the time amidst work deadlines and screaming kids.
This is my entry to Mommy Moments. You can find other Mommy Moments purpleness by clicking on the image below.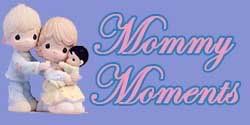 Kuya Basti is in third grade. Last February, his school held what they call as Field Day. I think the Field Day is sort of sports demo day because kids from the Nursery to Grade 3 did not get to play any sports but only got to present a sports dance. The Field Day was then followed by an Intramurals which only the higher levels including high school participated in.
I don't know why the shirts don't look purple on the screen but I swear they are. Only pale. I wanted to post a video of them dancing but Basti has "violent" reactions, LOL.
Happy weekend everyone. Be happy and be safe.