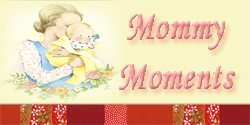 Memorable Moments of 2010. Wow, when I read that this is going to be the Mommy Moment topic for the last day of 2010, I suddenly found myself staring in space. Not because nothing comes to mind, or because I have nothing to write about, but because I was suddenly overwhelmed with emotions and memories of the year that was. Then I read it back again, and I must have misunderstood, because it really read Most Memorable Mommy Moment of 2010. But since I already started going down memory lane and is already wrapped with nostalgia, let me carry on.
But first, let me share my favorite Mommy Moment Theme of 2010, and that is
Our Love Languages
in February of 2010. You can read the post
HERE
.
So let me share with you my thoughts.
2010
was like one of those years that I would forever remember. This was the year that I was able to let go of some fears, and finally able to stand by what I wanted to do for so many years, and that is to be a stay at home mom. And it felt so good to finally be able to do that.. Some people thought (and is still thinking, a-huh) that I'm selfish for wanting to stay at home and leaving my work and letting my husband provide for our needs alone. I can't blame them because we are not financially well-off. Selfish or not, I shut my mind off from those thoughts and words of well-meaning people because I know if there was one thing that I needed to do for my self and for my boys, this is it. (
This is really, really it - sabi nga ni AiAi sa Tanging Ina
). I'm not closing my doors and turning my back on working outside the comforts of my home. That day will come again, when Simon is older, maybe. Sam and Simon are still in their formative years. Maybe when they don't need me anymore that much. SIGH.
I have to thank my husband and give him credit for his patience and for really working hard to provide for the family. It had been difficult for him but he managed to pull it off. Thanks to my sister also who introduced me to the world of earning a living online. I would be forever grateful to her for that and I really wouldn't have made it through this year without the possibility of earning a living on the side. She'd been a big help to me both on my online work and on taking care of the kids. I don't know if I'd still be sane today writing this Mommy Moment post if not for her. Try being in a room full of three hyper-active boys on your own while trying to meet your deadline. It's crazy. :)
There are so many memorable moments in 2010. Basti had his First Confession and his First Communion. I can't forget the moment when I was sitting there inside the church and waiting for him as he go through his First Confession. It was also the year of letting go and giving my eldest more freedom. Basti demanded to go school on his own. He asked me not to bring and pick him up from school anymore. He also begun asking if he could go to a classmate to "do some assignments" and then after, play PSP. He had long since asked me to stop calling him "beh", short for baby and asked if he could watch a movie alone, haha.
Sam went to school early September of 2010. I am so proud of my little boy. He had learned a lot of things at school and is always ready to show off. His speech considerably improved too and he can now express himself more clearly. Kudos to his teacher who is very patient and knows how to bring out the best in him. I have to thank also my mother-in-law and my sister-in-law for taking care of Sam during the weekdays.
Simon had so many milestones in 2010 and I'm glad I was there to witness each one of them. I now understand what people mean when they say "Terrible Two". He thinks he's an adult already. He's very active and loves to do things his way. His favorite expression is "Oh, man!" when he sees something extraordinary. He's almost potty-trained also which good. Diapers will be totally crossed out of our grocery list pretty soon.
So it had been pretty much a very good "mommy" year for me. It was an exhausting year, full of challenges financially, but emotionally, it was very fulfilling. I had learned so much. My kids love testing the limits of my patience. I shrieked and screamed and even cried in frustration and exasperation, and slept like a log due to exhaustion ( I slept more when I was a call center agent.) But I also laughed and cried in happiness many times, had been battered and bruised from rough play of three little boys, had been hugged, kissed and poked in the face so many times, whispered and shouted at during play, and most of all slept with a smile on my face on many nights. So at the end of it all, at the end of the year, at the end of each day, I have so much to be thankful for, and I wouldn't have it any other way.