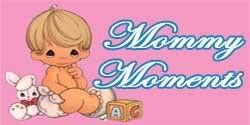 Music plays a big role in my boys' lives. My hubby is a frustrated singer, hahaha. He sings very well, and one of his hobbies is singing, naturally. He's fond of karaoke (those were the days!) and now Magic Sing. His whole family loves to sing too. As any Filipino family, my in-laws bring out their Magic Sing during special occasions and not so special occasions, like weekend get -togethers, and sing their hearts out like there's no tomorrow. Needless to say, my kids grew up with lots of music in the house, especially during weekends.
I don't know how to sing. I love to sing, but singing does not love me, LOL. So I'm glad that, at least, on the other side of the family, my children inherited their love of music. Each of my boys has what we call as distinctly-their-own-songs that we used to sing to them when they were babies

.
Simon, the youngest, loves Santino's May Bukas Pa. He knows how to sing the song, at one year old, complete with facial expression and at performance level. He loves it so much that we don't sing it when we're trying to get him to sleep, because instead of falling asleep, he becomes alert instead.
Basti's favorite song, the one we used to sing to him when he was just months old, was Aiza Seguerra's Pagdating ng Panahon.
Sam had been exposed to many types of music while growing up. He loves Jollibee songs, but when it comes to singing him a lullaby, he was so easy to please. Twinkle, twinkle Little Star was enough to put him to sleep. We just had to look him in the eye, with feeling and love and tenderness, hug him close, and he'd fall asleep.
For more songs from more mommies, please click on the badge above.